Rodeo Rugby Ball and Rodeo Football Rides For Hire
Looking for something different for your football or rugby event? Then look no further than these brilliant sports themed rodeo rides that we have available for hire to events across the Midlands and central UK area. Both come staffed with a trained ride operator who runs the ride for you and weather shelters are provided for outdoor events. We even provide a small trophy for the longest ride of the event.
Rodeo Rugby Ball Ride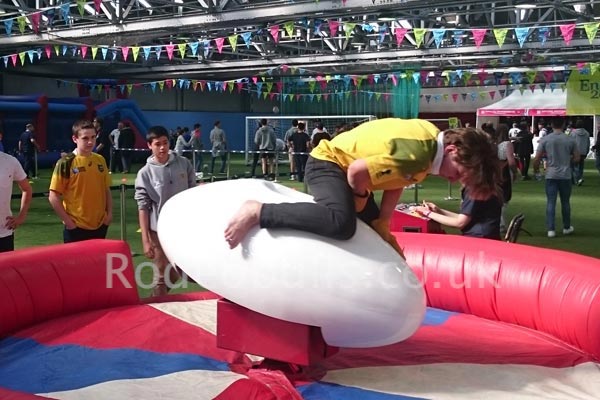 The perfect entertainment for rugby festivals, pre-match entertainment, and rugby club fundays the Rodeo Rugby Ball is a giant fibre glass rugby ball that spins and bucks under the control of the operator while the rider tries to stay on as long as they can. This ride is suitable for riders 4ft and taller up to adults with a maximum weight of 17stone. Our parent company can also supply a matching themed Rugby Bungee Game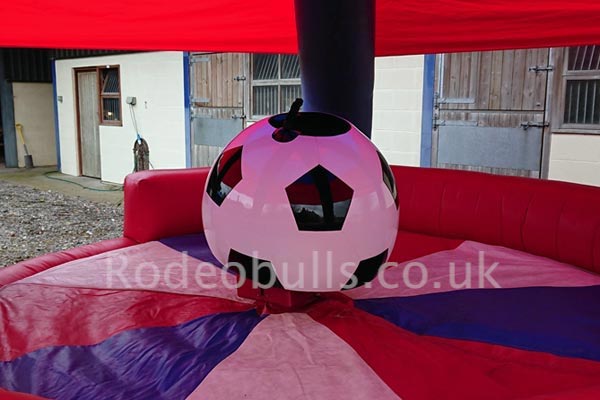 Rodeo Football Ride
The Football version of the rodeo ride is ideal for football themed parties, club fun days, fan zones, or any football themed promotion. Like the rugby version above the ride is suitable for riders 4ft tall upwards and again has a 17 stone rider weight limit.
The above rides need an area of 18x18ft with a height clearance of 9ft if indoors or a larger space of 23x23ft if outdoors as we provide a weather shelter to go over the ride free of charge. Access to a mains electric supply is required within 40metres although we can supply an 8kva generator for an additional charge where theres no mains electric available.
To obtain a no obligation quote for the hire of the Rodeo Football or Rodeo Rugby Ball please don't hesitate to call or contact us and we will be pleased to assist you.
Site Map - Rodeo Bulls - Bucking Bronco - Bucking Sheep Ride - Rodeo Reindeer Ride - Popcorn and Candyfloss Machine - Hire Areas - Wild West Games - Inflatable Marquee - Rodeo Bull Hire Prices -Contact Us - Other Inflatable Games For Hire - Links - Testimonials
Rodeo Rugby Ball and Football Rides For Hire