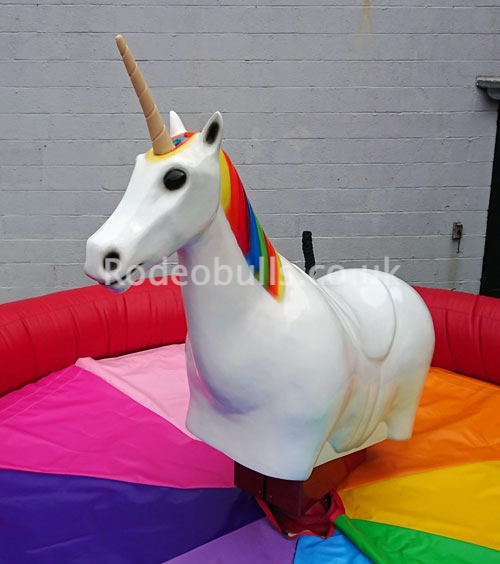 Rodeo Unicorn Ride For Hire
The Rodeo Unicorn Ride is a brand new addition to our range of rodeo rides for 2019 and is suitable for riders 1.2m tall and above - including adults!
Using the same motion unit as the other rodeo rides the spin and buck speed is fully controlled by the experienced operator who will run the ride for you. Each ride is automatically timed with the ride duration shown on a large digital display.
For indoor events you will need an overall operating area of 18x18ft with a ceiling height of 9ft. For outdoor events you will need an increased area of 23x23ft as we need room for the inflatable weather shelter that we provide free of charge with all hires. We can't run the ride outdoors without the shelter. All access points such as gates, passageways, and doorways must be 33inches wide for the equipment to pass through.
If you have any queries concerning hire, then please don't hesitate to call or contact us and we will be pleased to assist you.
Site Map - Rodeo Bulls - Bucking Bronco - Bucking Sheep Ride - Childrens Rodeo Ride - Party Photo Booth - Rodeo Reindeer Ride - Cork Gun Shooting Range - Popcorn and Candyfloss Machine - Hire Areas - Wild West Games - Inflatable Marquee - Rodeo Bull Hire Prices -Contact Us - Other Inflatable Games For Hire - Links - Testimonials
Bucking Sheep Ride For Hire