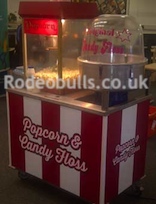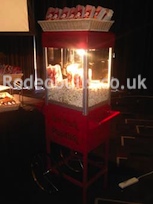 Popcorn Cart and Candyfloss Machine Hire
Available to hire individually or together, with staff or DIY, our Popcorn Cart and Candy Floss Machine can provide the finishing touch to your Amercian themed event and some great fun food for your guests. The Popcorn machine can be supplied either on a cart or for table top use. The Candyfloss machine can be supplied on a cart, for table top use, or with a themed inflatable serving stall.
The Popcorn Machine and cart are supplied complete with raw corn, serving bags and all other consumables required for the agreed number of portions. The Candyfloss Machine is supplied with the ready to use mixture and either serving sticks, paper cones, or plastic bags depending on your preference.
To obtain a competitive quote for the hire of the Popcorn Cart and Candy Floss machine, or if you have any queries concerning hire, then please don't hesitate to call or contact us and we will be pleased to assist you.
Site Map - Rodeo Bulls - Bucking Bronco - Bucking Sheep Ride - Childrens Rodeo Ride - Photo Booth - Rodeo Reindeer Ride - Cork Gun Shooting Range - Popcorn and Candyfloss Machine - Hire Areas - Wild West Games - Inflatable Marquee - Rodeo Bull Hire Prices -Contact Us - Other Inflatable Games For Hire - Testimonials
Popcorn Cart and Candyfloss Machine Hire