Wild West Games and Props
If you're looking for Wild West games to hire or just additional Wild West themed games for your event then look no further. All of the Wild West games below can be hired either individually or alongside a Rodeo Bull but please note that a minimum order value will apply depending in distance. If more than one item is hired then we will allow a discount on the hire price.

Inflatable Shooting Range For Hire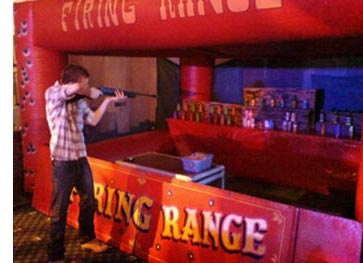 Cowboy or Indian? Its your choice with this great inflatable Cork Gun Shooting Range designed to our own specifications and especially developed for use alongside the Rodeo Bull for that extra Wild West fun.
If you're a cowboy you try to shoot the cans off the range, and knock down the targets with cork guns. If you're an Indian you do the same but with a Bow and Arrow.
This inflatable Cork Gun Shooting Range has been designed with safety of paramount importance and the range is fully enclosed to prevent stray arrows and corks escaping!
The Wild West Inflatable Shooting Range requires a space of 18x16ft and height clearance of 9ft.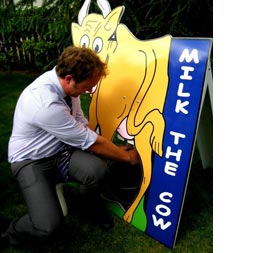 Wild West Themed Side Games
We have a number of 'add on' side games all with a wild west theme. These include Horseshoe Throwing, Inflatable Cactus Hoopla, Wooden Stocks, Milk the Cow, and the Tin Can Alley throwing game.

If you have any queries, questions, or would like to book a Wild West Games for your party or event please contact us and we will do all we can to help.