Wild West Games and Props
If you're looking for Wild West games to hire or just additional Wild West themed games for your event then look no further. All of the Wild West games below can be hired either individually or alongside a Rodeo Bull but please note that a minimum order value will apply depending in distance. If more than one item is hired then we will allow a discount on the hire price.

Inflatable Shooting Range For Hire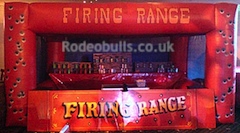 Cowboy or Indian? Its your choice with this great inflatable Cork Gun Shooting Range designed to our own specifications and especially developed for use alongside the Rodeo Bull for that extra Wild West fun.
If you're a cowboy you try to shoot the cans off the range, and knock down the targets with cork guns. If you're an Indian you do the same but with a Bow and Arrow.
This inflatable Cork Gun Shooting Range has been designed with safety of paramount importance and the range is fully enclosed to prevent stray arrows and corks escaping! The Wild West Inflatable Shooting Range requires a space of 18x16ft and height clearance of 9ft.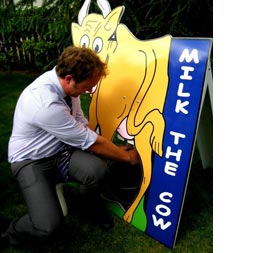 Wild West Themed Side Games
We have a number of 'add on' side games with a wild west theme to them. These games include Horseshoe Throwing, Inflatable Cactus Hoopla, Wooden Stocks (with or without sponges), a brilliant Milk the Cow game, and a Tin Can Alley throwing game in a themed inflatable shack.







Traditional Side Stall Games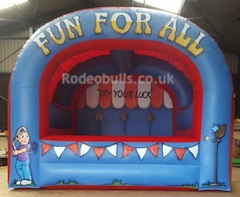 We also have good range of traditional Side Stall fairground style games including all the favourites such as Hook a Duck, Ball in the Bucket, Ring the Bull, Feed the Clown, Coconut Shy, Crossbow Shoot, Higher-Lower Cards, Splat the Rat, and more. These are available in either traditional style stalls or inflatable stalls.
Bucking Rodeo Sheep Hire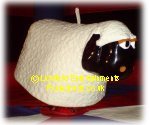 For those with a slightly twisted sense of humour!
The Bucking Rodeo Sheep uses the same mechanical ride base unit as the Rodeo Bull and can be hired on its own or as an extra attachment with the bucking bronco ride. The two attachments can then be switched around during your event as required using the same base unit. Possibly one of the funniest rides around the Rodeo Sheep really is the ride to have the spectators laughing.
Popcorn Cart and Candyfloss Machine Hire
American fun food to compliment the themeing. These machines are available on a DIY or staffed basis and are supplied with all the consumables required.
Click Here to visit the Popcorn and Candyfloss Page
Wild West Theme Props & Decorations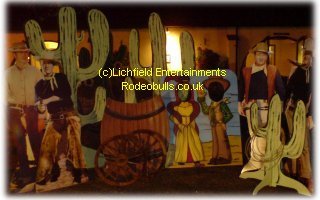 Included free with every Rodeo Bull hire is Steerhead Lassoing. Imported from the US these are the dummy steerheads and genuine handmade lariot lassos that the real cowboys practice with.


We also offer the hire of our great Cactus Hoopla game where you have to get the hoops over the hooks on the 7ft Wooden Cactus. We can also help with the themeing of your event with Wooden Cactus, Wagon Wheels, Barrels, Flags and Bunting, 6ft Cowboy figures, and even Teepees! Please ask for details.


If you have any queries, questions, or would like to book a Wild West Games for your party or event please contact us and we will do all we can to help.
Site Map - Rodeo Bulls - Bucking Bronco - Bucking Sheep Ride - Childrens Rodeo Ride - Party Photo Booth - Rodeo Reindeer Ride - Cork Gun Shooting Range - Hire Areas - Wild West Games - Popcorn and Candyfloss Machines For Hire - Inflatable Marquee - Rodeo Bull Hire Prices - Contact Us - Other Inflatable Games for Hire - Links - Testimonials