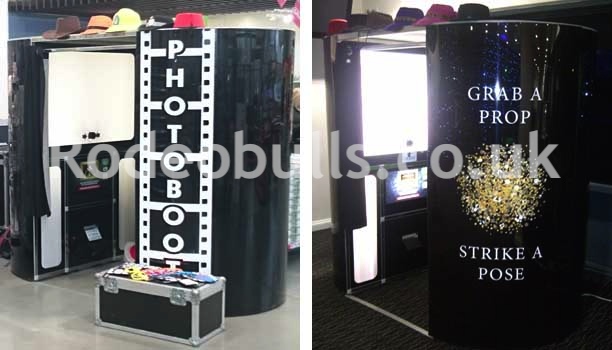 Photo Booth Hire
A Photo Booth fast becoming the must have item for wedding receptions, proms, balls, birthday and Christmas parties. Our party Photo Booth makes for a great addition to any of these special occasions providing a fun souvenir for the guests, who can take their instant and automatically printed photos away with them, and the host who is supplied with a USB stick containing all photos taken to create their own album. There's also the option of having the photo booth print duplicates of each photo so both the guest and host have a printed copy.
The operation of the Photo Booth is controlled by your guests. Once they're comfortable in the privacy of the Photo Booth they can let themselves go choosing their options via an easy to use touchscreen. A 6x4inch print made up of all four photographs is then dispensed from the booth in a matter of seconds for them to take away.
The photo booths can be run in classic or greenscreen mode the later of which can be set to have Wild West backgrounds to the photos if required.
The Photo Booth Hire Package Includes:
Choice of Classic, Fixed Greenscreen with custom theme, Seven Theme Greenscreen, or Greenscreen Dream Machine photo booth

Choice of Gloss Black, White Leather Cushion effect, VW Camper, or Las Vegas design booth body.

A big box of fun props including wigs, hats, glasses, etc for added humour.

Unlimited photo 'sittings' during the hire period with an instant print each time.

A USB stick containing digital copies of all the photos for the host of the event.

A smartly dressed photo booth attendant to ensure that everything runs smoothly.

Photo Booth Hire Details

The photo booth breaks down to be portable and the flightcase it's all contained in will fit through a single door. The photo booth requires an overall operating area of just 9x7ft with a height clearance of 6ft 10in. If the venue is not on the ground floor lift access will be required.

Access to a normal 240volt mains electric supply will be required for power. Due to the electronic equipment involved the photo booth must be used either indoors or inside a commercial standard marquee with a flat level floor. If the event is being held during the winter months any marquee must be heated.

Our staff will normally arrive an hour and a half before the agreed start to set-up but if you require it to be set up earlier than this it can be arranged subject to a surcharge.

To obtain a competitive quote for the hire of the Photo Booth for your reception, party, prom, or ball, or if you have any queries concerning Photo Booth hire, then please don't hesitate to call or contact us and we will be pleased to assist you.





Site Map - Rodeo Bulls - Bucking Bronco - Bucking Sheep Ride - Childrens Rodeo Ride - Party Photo Booth - Rodeo Reindeer Ride - Cork Gun Shooting Range - Hire Areas - Wild West Games - Popcorn and Candyfloss Machines For Hire - Inflatable Marquee - Rodeo Bull Hire Prices - Contact Us - Other Inflatable Games for Hire - Testimonials




Party Photo Booth hire for weddings, receptions, parties, proms, and balls

All wording, phrases, and pictures are copyright of Lichfield Entertainments. Those copying our text or images will be pursued through all legal channels and reported to the relevant search engine with a request that the website is deleted from there listings. Please use your own imagination for your own website.